---
MWS-612DD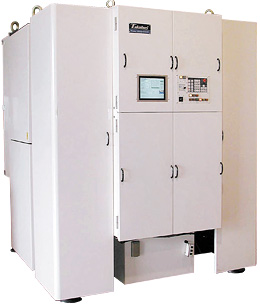 FEATURES
New Challenge For High Speed Slicing
Equipment optimized to meet the growing needs for the Diamond fixed abrasive wire targeting high speed / high precision slicing.
Various changes made to the original equipment to handle fixed abrasive wire.
Spindle Rocking & Auto Wire Wind System
Takatori's original Spindle Rocking Slicing exerts full effect in fixed abrasive slicing as it does with loose abrasive.
Auto Wire Winding System is successively equipped.
High Rigidity Spindle
Spindles of higher rigidity are mounted to enable 300mmL capability.
Two Spindle System
Two Spindle System increases the wire contact area with the work rollers (wire guides) by 50% , which ensures more stable slicing operation.
Work Roller maintenance cost will also be saved.
Stable Wire Tension Control
Wire tension is all electronically controlled to ensure precise and stable control as well as easy operation.
300mmL Capability
Applicable ingot length capability has been increased to 300mmL . Productivity increased by 10%.

---



---