---
GLP-200W(Grinder)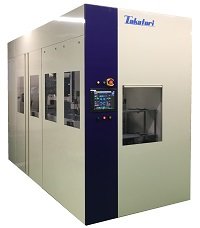 FEATURES
Adoption of 2 Heads With High Rigidity
The machine corresponds toφ4inch, φ6inch, φ8inch wafers. φ200mm or φ300mm grindstones are available for this machine. The machine also has a precise in-process gauge (non-contact in-process gauge as an option).
High Rigidity Machine
The high rigidity machine can grind hard and brittle material like SiC, LT/LN, GaN, and sapphire. The machine will grind with heavy load, which leads to less grinding time, higher accuracy, and long life of grind stones.
Non-Dress
Realized longer life of grindstone and shorter grinding time, by using non-dress grindstone
Easier Operation
The machine uses graphical user interface (GUI) which is user-friendly, and flexible data setting is available.
Eco-Friendly
Smaller motor capacity by using servo-motor, which also means less irregularity of spinning that leads to stabilization of grinding face.

---



---