---
MWS-612DR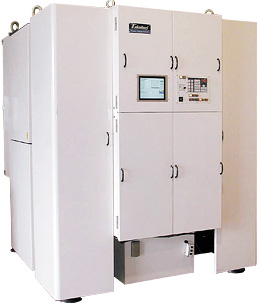 FEATURES
Higher Linear Velocity and Higher Tension
Delivers higher linear velocity and higher tension than our conventional MWS-612DD, resulting in even faster and higher precision processing.
Higher Rigidity
Along with the increase in linear velocity and tension, the rigidity of the main unit, each individual section, and the fine-adjustment table has been heightened. The additional adoption of a reinforced spindle also serves to improve the rigidity of the entire unit.
New Swing Mechanism
Incorporates a "new swing mechanism" based on Takatori's extensive knowhow towards swing mechanism cultivated over many years. This mechanism facilitates even greater precision in slicing.
Outstanding Performance
Based on our conventional unit (MWS-612DD), which had an outstanding reputation for slicing sapphire, this equipment has been further evolved to make maintenance even easier and allow processing under the same slicing conditions as that previous unit.
Other features
A large capacity, 200L dual tank that integrates both supply and recovery comes standard. A larger and more capable temperature controller was also integrated in order to enable processing under even more stable conditions.
---



---